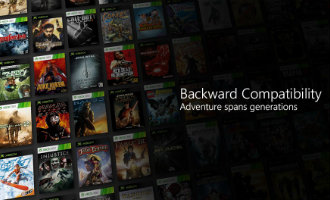 Alors que Microsoft a en fait l'un de ses alliés de poids pour la Xbox One, la rétrocompatibilité s'achève sur la famille de consoles Xbox One.
Non pas que les jeux ne seront plus rétrocompatibles, au contraire, mais la firme de Redmond ne proposera plus de jeux rétros supplémentaires sur Xbox One, Xbox One S et Xbox One X. En revanche, les équipes se tournent déjà sur le futur avec la Xbox Scarlett.
Original
« We're taking our work a step further and announced this week that thousands of games from all four generations will be playable on Project Scarlett. We have now shifted our focus to help make the games you love playing on Xbox One compatible with future Xbox hardware. After this week, we have no plans to add additional Original Xbox or Xbox 360 titles to the catalog on Xbox One, but we're excited to continue our work on Xbox compatibility across platforms and devices, which remains a top priority. »
« Nous allons encore plus loin dans notre travail, et avons annoncé cette semaine que des milliers de jeux des quatre générations seraient jouables sur Project Scarlett. Nous avons maintenant modifié notre objectif pour aider à rendre les jeux auxquels vous aimez jouer sur Xbox One compatibles avec le futur matériel Xbox. Après cette semaine, nous ne prévoyons pas d'ajouter d'autres titres Xbox Original ou Xbox 360 au catalogue de Xbox One, mais nous sommes impatients de poursuivre notre travail sur la compatibilité Xbox entre plates-formes et appareils, qui reste une priorité absolue. »
Avec plus de 600 titres au compteur, l'équipe en charge de la rétrocompatibilité tire sa révérence avec une dernière vague ne comportant pas moins de 23 titres : Xbox 360, Xbox Originals.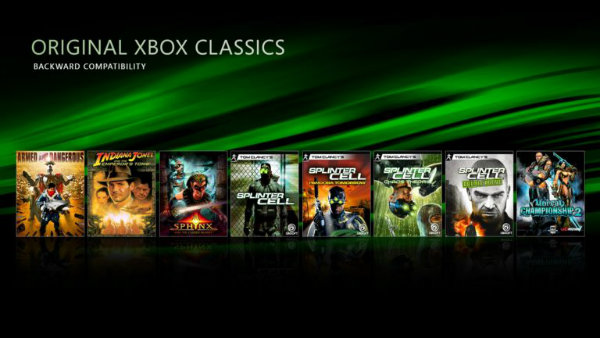 Xbox Originals
Armed and Dangerous
Indiana Jones and the Emperor's Tomb
Sphinx and the Cursed Mummy
Tom Clancy's Splinter Cell
Tom Clancy's Splinter Cell Pandora Tomorrow
Tom Clancy's Splinter Cell Chaos Theory
Tom Clancy's Splinter Cell Double Agent
Unreal Championship 2 – The Liandri Conflict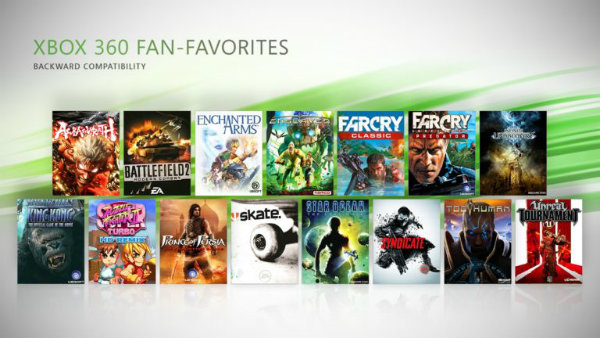 Xbox 360 (les amateurs de RPG seront ravis)
Asura's Wrath
Battlefield 2 – Modern Combat
Enchanted Arms
Enslaved – Odyssey to the West
Far Cry Classic
Far Cry Instincts Predator
Infinite Undiscovery
Peter Jackson's King Kong – The Official Game of the Movie
Prince of Persia The Forgotten Sands
Skate
Star Ocean – The Last Hope
Super Puzzle Fighter II Turbo
Syndicate
Too Human 
Unreal Tournament III
Et on termine par les titres optimisées Xbox One X Enhanced
Banjo-Kazooie
Banjo-Kazooie Nuts & Bolts
Banjo-Tooie
Kameo Elements of Power
Perfect Dark
Perfect Dark Zero
Viva Piñata
Viva Piñata – Trouble in Paradise
Un jeu offert !
Pour terminer sur une bonne note, Microsoft offre Too Human (Xbox 360) à tous les joueurs(euses). Pour se le procurer, rendez-vous à cette adresse.