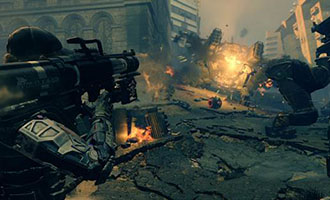 Le studio Treyarch, créateur de Call of Duty Zombies, revient avec Shadows of Evil, le tout nouveau mode survival en coopération mettant en scène des morts-vivants arrivant le 6 novembre avec Call of Duty: Black Ops III. Shadows of Evil dévoilé en avant-premièreà la Comic-Con de San Diego.
Parmi le casting de vedettes interprétant les personnages du jeu, on retrouvera Jeff Goldblum, Heather Graham, Neal McDonough, Ron Perlman et Robert Picardo.
« Treyarch a créé une expérience de jeu totalement unique et incroyable pour notre communauté fidèle de Zombies dans Call of Duty : Black Ops III : Zombies – Shadows of Evil, » dit Mark Lamia, directeur du studio Treyarch. « L'équipe de développement a rempli Shadows of Evil avec plus de gameplay et de fun qu'aucune autre expérience avant, et possède une narration profonde et pleine de rebondissements, jouée par des acteurs fantastiques, qui retournera littéralement nos fans. »
Prévu pour une sortie mondiale le 6 novembre, Call of Duty : Black Ops III sera disponible sur PlayStation4, Xbox One, PC mais aussi PlayStation3 et Xbox 360.