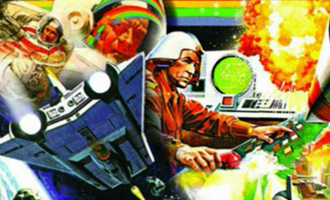 Les fans de jeux Rétro vont pouvoir remonter le temps et profiter de 100 jeux classiques Atari et des titres arcade sur PlayStation 4 et Xbox One, grâce à la sortie imminente des Atari Flashback Classics – volumes 1 et 2.
Présenté sous forme de 2 compilations distinctes, chaque volume rassemble 50 titres dont les célèbres Centipede, Swordquest, Star Raiders, Asteroids, Haunted House, Adventure, Combat, Adventure and Major Havoc – tous remasterisés en Haute Définition.
En plus de disposer pour chaque jeu d'un vaste album d'artworks classiques, les deux volumes proposent également toute une série de nouvelles fonctionnalités in-game. Les joueurs pourront jouer en ligne, déverrouiller des trophées et faire leur maximum pour obtenir la meilleure place aux classements mondiaux.
Andy Pearson, Responsable Marketing Hardware & Tech chez PQube Ltd, précise : « Avec la popularité croissante du rétrogaming, il est génial de voir de grands classiques retrouver un second souffle sur les 2 consoles les plus vendues aujourd'hui. En plus d'offrir un excellent rapport qualité/prix, ces 2 compilations permettront à une toute nouvelle génération de gamers de découvrir les plus populaires jeux vidéo Atari 2600 comme Asteroids.« 
Atari Flashback Classics Vol. 1, liste complète des jeux :
3-D Tic-Tac-Toe Air-Sea Battle, Backgammon, Basketball, Black Widow (Arcade), Blackjack, Bowling, Canyon Bomber, Centipede, Centipede (Arcade), Circus Atari, Combat, Combat 2, Desert Falcon, Dodge 'Em, Fatal Run, Football, Home Run, Human Cannonball, Liberator (Arcade), Lunar Lander (Arcade), Millipede, Millipede (Arcade), Miniature Golf, Pong (Arcade), Quadrun, Radar Lock, Realsports Boxing, Realsports Football, Realsports Soccer, Realsports Volleyball, Save Mary, Slot Machine, Slot Racers, Space Duel (Arcade), Sprint Master, Star Raiders, Steeplechase, Stunt Cycle, Super Baseball, Super Football, Swordquest: Earthworld, Swordquest: Fireworld, Swordquest: Waterworld, Tempest, Tempest (Arcade), Video Olympics, Warlords, Warlords (Arcade), Yars' Revenge.
Atari Flashback Classics Vol. 2, liste complète des jeux :
A Game of Concentration, Adventure, Asteroids, Asteroids (Arcade), Asteroids Deluxe (Arcade), Atari Video Cube, Basic Math, Brain Games, Breakout, Casino, Championship Soccer, Checkers, Chess, Codebreaker, Crystal Castles, Crystal Castles (Arcade), Demons to Diamonds, Double Dunk, Flag Capture, Golf, Gravitar, Gravitar (Arcade), Hangman, Haunted House, Major Havoc (Arcade), Maze Craze, Missile Command, Missile Command (Arcade), Night Driver, Off the Wall, Outlaw, Race, Realsports Baseball, Realsports Basketball, Realsports Tennis, Redbaron (Arcade), Return to Haunted House, Secret Quest, Sentinel, Sky Diver, Spacewar, Sprint (Arcade), Starship, Stellar Track, Street Racer, Sub Commander (SUBMARINE COMMANDER), Super Breakout, Super Breakout (Arcade), Surround, Video Pinball.
Atari Flashback Classics volumes 1 et 2 seront disponibles à partir du 31 mars 2017.