Une actu en demi-teinte mais c'est le calme avant la tempête. L'E3 approche à grands pas. On vous propose d'ailleurs quelques infos dans cet Hebdo Games.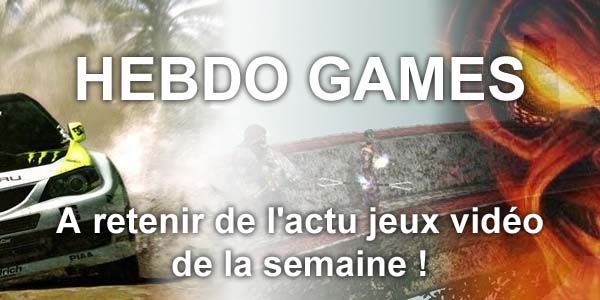 Hot News

Les dates des conférences E3
Microsoft : lundi 9 juin 2014 – 18h30, Electronic Arts : lundi 9 juin 2014 – 21h, Ubisoft : mardi 10 juin 2014 – minuit, Sony : mardi 10 juin 2014 – 3h, Nintendo : mardi 10 juin 2014, 18h. 

Homefront The Revolution annoncé pour 2015
La licence a été rachetée par Crytek. Le premier opus était pas terrible mais on peut espérer mieux avec ce changement de propriétaire. Cela sera sur PC, Xbox One, PS4, Mac et Linux. Deep Silver est aussi de la partie pour un FPS qui se vante d'avoir des combats non scriptés. Une petite vidéo sympa : 

E3, le line-up de Capcom
Il y aura Monster Hunter 4 Ultimate, Phoenix Wright Ace Attorney Trilogy, Ultra Street Fighter IV et Dead Rising 3 PC. Rien de bien extraordinaire mais bon …

Charts Japon 
Mario Kart 8 a fait un démarrage en trombe avec 326 000 ventes dans la semaine. Du coup la Wii U en profite pour prendre la deuxième place du classement. Les chiffres : 3DS (24 000), Wii U (19 000), Vita (14 000), PS3 (6 900), PS4 (6 500). 

Une mise à jour pour la Xbox One
La grosse nouveauté concerne la possibilité (enfin) d'utiliser un disque dur usb pour stocker vos jeux. 

E3 : Le line-up des titres présents sur le salon
Ca fait pas rire. 
PLAYSTATION 4
Apotheon (Alientrap)
Assault Android Cactus (Witchbeam Games)
Axiom Verge (Thomas Happ Games)
The Binding of Issac: Rebirth (Nicalis)
Chasm (Discord Games)
CounterSpy (SCE / Dynamighty)
Destiny (Activision / Bungie)
Diablo III: Ultimate Evil Edition (Activision Blizzard)
Disney Infinity 2.0: Marvel Super Heroes (Disney Interactive)
Driveclub (SCE / Evolution Studios)
EarthNight (Ceaversoft)
EA Sports UFC (EA Sports)
Galak-Z: The Dimensional (17-Bit)
Guilty Gear Xrd: Sign (Aksys Games)
Helldivers (SCE / Arrowhead Game Studios)
Hohokum (SCE / Honeyslug)
Jamestown Plus (Final Form Games)
Killzone: Shadow Fall 'Intercept' DLC (SCE / Guerrilla Games)
LEGO Batman 3: Beyond Gotham (Warner Bros.)
MLB 14: The Show (SCE / SCE San Diego Studio)
N++ (Metanet Software)
Nidhogg (Messhof)
Night in the Woods (Finji Games)
Nuclear Throne (Vlambeer)
Oddworld: New 'n' Tasty (Just Add Water
PlanetSide 2 (SOE)
Plants vs. Zombies: Garden Warfare (EA)
Project Cars (Slightly Mad Studios)
Road Not Taken (Spry Fox)
Samurai Warriors 4 (Tecmo Koei)
Secret Ponchos (Switchblade Monkeys)
Shadow Warrior (Devolver Digital)
Source (Fenixfire)
The Crew (Ubisoft)
The Golf Club (HB Studios)
The Order: 1886 (SCE / Ready at Dawn)
Valiant Hearts: The Great War (Ubisoft)
Velocity 2X (FuturLab)
PLAYSTATION 3
Aaru's Awakening (Lumenox)
CounterSpy (SCE / Dynamighty)
Dynasty Warriors: Gundam Reborn (Bandai Namco)
Helldivers (SCE / Arrowhead Game Studios)
Hohokum (SCE / Honeyslug)
Kingdom Hearts HD 2.5 Remix (Square Enix)
Persona 4 Arena Ultimax (Atlus)
Starwhal: Just the Tip (Breakfall)
Tales of Xillia 2 (Bandai Namco)
Teslagrad (Rain Games)
The Swapper (Curve Studios)
Zen Pinball 2: The Walking Dead Table Pack (Zen Studios)
PS VITA
Akiba's Trip: Undead & Undressed (XSEED Games)
Big Fest (SCE / On The Metal)
CounterSpy (SCE / Dynamighty)
Danganronpa 2: Goodbye Despair (NIS America)
Disgaea 4: A Promise Revisited (NIS America)
Freedom Wars (SCE / SCE Japan Studio / Shift / Dimps)
Gravity Crash Ultra (Just Add Water)
Gunship X (Hidden Elephant)
Home (Benjamin Rivers)
Hotline Miami 2: Wrong Number (Devolver Digital)
Hyper Light Drifter (Heart Machine)
Invizimals: The Alliance (SCE / Novarama)
Legend of Raven (Nicalis)
MechRunner (Spark Plug Games)
Metrico (Digital Dreams)
MLB 14: The Show (SCE / SCE San Diego Studio)
Murasaki Baby (SCE / Ovosonico)
One Way Trip (Beret Applications)
PlayStation Vita Pets (Spiral House)
PixelJunk Shooter Ultimate (Double Eleven)
Race the Sun (Flippfly)
Rogue Legacy (Cellar Door)
Super Exploding Zoo (Honeyslug)
Switch Galaxy Ultra (Atomicon)
To Leave (Freaky Creations)

Defiance passe free-to-play 
Le titre basé sur la série TV devient donc gratuit dès aujourd'hui sur PC. Ce sera le 15 juin pour la PS3 et la Xbox 360. En attendant, consultez notre test. 

Samurai Warriors 4 est annoncé
La série fait son retour en octobre 2014. Nous on aime bien leurs vidéos.
Sorties en Tout Genre 

La démo d'EA Sports UFC est disponible 
Le jeu de combat s'essaie gratos sur PS4 et Xbox One. 

Les sorties de la semaine : PS Plus de juin, Murdered Soul Suspect, …
Vidéos

Neptunia : PP se montre un peu 
Ce jeu de rythme importé par NIS America est désormais disponible sur Vita 

Une nouvelle vidéo pour la terre du milieu 

Encore une vidéo pour Batman Arkham Knight